Mechline Grease Pak
£465.00 ex. VAT | £558.00 inc. VAT
Out of stock
Description
Our Best Selling Grease Trap Dosing Pump!
The UK's space saving dosing pump will partner perfectly with any of our grease traps. No need for large floor drums containing dosing fluid and no more grease trap emptying! This dosing unit complies with all current legislation (as of 2020) and will ensure that your drains will keep flowing helping you get on with running your business without interruption.  Taking up just a small amount of wall space, all you are required to do is to insert one of our grease trap cartridges, set your dosing frequency and your done! You will get an audible alarm when it needs changing. Then its a 30 second job that is both clean and hassle free!
The biofluid cartridge has 10 bacteria strains with more than 500 million colony forming bacteria per gram. This is the simplest and most effective system available in the UK today.
Once more, its battery operated meaning no wiring in!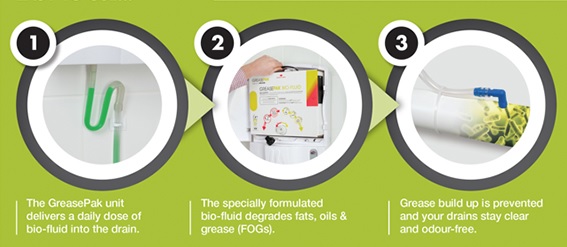 Our dosing fluid cartridges do not come included with the dosing pump but can be purchased by clinking on the image below. Each master pack contains 3 x 5 ltr cartridges (3 Months supply).