Grease Trap Compliance: What You Need To Know
Grease trap compliance is an essential consideration. Commercial food establishments produce an immense amount of fat, oil and grease (FOG) as a result of their everyday operations. The problems occur when FOG is not properly or professionally treated before it makes contact with the main drainage networks. Ineffective management could lead to serious drainage issues, which may impact detrimentally on the environment.
The British Building Regulations consider grease trap compliance as part of the overall maintenance process of the workplace. It is now mandatory for businesses to install an appropriate grease trap in commercial food premises. FOG removal is, therefore, a serious consideration for companies.
Often, experts in fat, oil and grease maintenance will need to be called upon to help out. Especially at places like hotels, restaurants, and fast food outlets.
Many other non-retail venues also need to consider grease trap compliance. This includes schools, offices, shopping centres, and venue management companies. Therefore, it is always worth using market-leading grease traps. Moreover, this gives you peace of mind about your business's grease management.
Grease trap maintenance to comply with regulations:-
From the start, check your grease trap on a regular basis to keep up the necessary cleaning frequency for your building.
Pump out FOG as and when the grease trap begins to pile up and get to too high.
Use a bacteria additive which can help to reduce any normal build-up of FOG and other unwanted waste blocks.
Evaluate the practicality of using an automatic injection pump to effectively remove larger quantities of bacteria from your grease trap at regular intervals for just about maintenance-free treatment.
Maintain a detailed maintenance log of cleaning.
* Always make sure that you are using the most appropriate grease trap for your specific needs.
Installation of a Compliant Grease Trap
All building regulations now require new and refurbished commercial kitchens to comply with certain laws. To install a new grease management system, you need to have protocols in place. Install a grease trap system which has high separation efficiency. You will need a trap that is powerful and durable and can be fitted anywhere. In order to avoid overwhelming odours and unexpected spillages, it should additionally be sealed with a professional air-tight cover.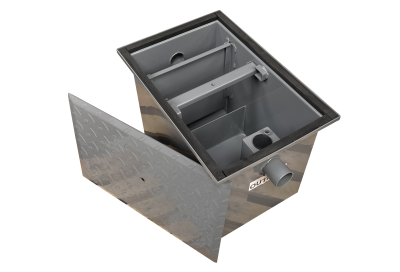 Regular grease trap cleaning, even of newly fitted traps, is essential for the effective operation of all of your equipment. This will stop fat, oil and grease from passing into the mainstream water supply. Where a grease trap has been allowed to overfill, this will allow grease to block a trap, creating a flood, or it will go down the line further, leading to blockages later on.
Grease trap compliance requires that grease is safely taken away and that even your new system is washed down regularly to improve performance. Any work that is completed in terms of your waste trap needs to be accompanied by waste transfer notes, which will allow you to confirm the proper disposal of environmental waste.
Essentially, even when installing a new grease trap, you need to ensure that you are fully up to date with Grease Trap Compliance and how to maintain it.