Unrivalled Advice & Service
We only sell Grease Traps so its fair to say that we know what we are talking about! We pride ourselves in providing you with the best grease trap service and advice in order for you to make the correct buying decision every time.

FREE UK Delivery
All grease traps ordered before 2pm Monday – Friday will qualify for free next working day delivery to mainland UK.

Quality Grease Traps
Purchase your grease traps with peace of mind – our traps have been designed with the following legislation in mind: Building Regulations 2.21, The Water Act 1991, Environmental Protection Act 1990 and Food Safety Act 1990.  Grease Trap Store helps your business keep compliant.
UK Commercial Grease Trap Specialists
Grease Trap Store is the UK's leading commercial kitchen grease trap supplier. We offer incredible value under sink and outdoor grease traps. Prices start from just £140 + VAT, including free next-day delivery. Grease Trap Store provide high-quality passive grease traps. We have huge UK stock, and it is ready for immediate dispatch.
Amazing Value Grease Traps
Grease Management is an essential consideration for UK restaurants in 2023. Collecting waste fats, oils, and grease (FOGs) is vital and doesn't have to be expensive. Here at Grease Trap Store, we provide market-leading value. Also, we provide service to food service establishments throughout the United Kingdom. Being UK-based, we regularly help support cafes, pubs, restaurants, hotels and care homes. Their efforts to reduce blockages and remain compliant are vital to the UK food industry.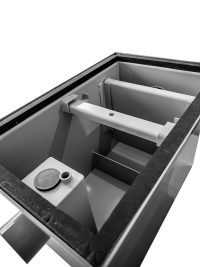 We can help you when liaising with water providers such as Severn Trent Water, Anglian Water, Thames Water and many others. It's essential you work with your local water provider to ensure you are on the right side of legislation. At Grease Trap Store, we can help you understand your basic legal obligations.
Commercial Grease Traps UK
Being long-term suppliers of high-quality stainless steel grease traps, we're confident we can help. A passive grease trap can prevent cooking fats, oils and grease from animal proteins from collecting in your drains and public sewer system. And you don't need to spend a fortune with our under sink grease traps starting from just £140!
Installing a correctly sized commercial grease trap and servicing it regularly is vital. You can massively reduce the likelihood of blockages and costly fines. Put simply, a passive commercial grease trap can help you save money. Additionally, it will also reduce stress as well as keep your drains flowing.
Epoxy Grease Trap
As well as under sink stainless steel grease traps, we also stock our rugged outdoor and underground epoxy grease traps. Our wide range, starting from just 40 litres, means we can help get you started no matter your budget. Installing a correctly sized fat trap will immediately reduce the amount of FOGs entering your drainage system.
Contact Us Today
Whether you're a large restaurant in London, a luxury hotel in Manchester or a hospital in Edinburgh – we can help. Irrespective of your business size, Grease Trap Store can support you. Furthermore, we have the experience to help you size a commercial grease trap tailored to your needs. In the first place, if you need help deciding which commercial grease trap to choose, contact us. Likewise, you might like some advice on which would be the most suitable for your kitchen.
Use Our Calculator
Why not email us at sales@greasetrapstore.co.uk? We are here to help, and our advice is free! It could also save you time and money. If you know the product you want but want to check our stock availability, ask. Remember to check out our easy-to-use size calculator or continue reading for more valuable tips!
What is a Grease Trap?
Grease Traps, also known as grease interceptors or fat traps, are easy-to-fit plumbing devices. They capture (or trap) cooking fats, oils and grease (FOGs) before they enter the central drainage system. Food service establishments such as takeaways and restaurants generate FOGs during day-to-day business. Usually, it happens when washing and cleaning utensils and equipment.
Stainless steel or similar is the robust material that makes passive grease traps. Additionally, they are an essential kitchen device which helps safely capture this waste product. Put simply, Grease Traps are one of the most cost-effective ways to trap FOGs. They are widely considered a must-have for all UK commercial kitchens.
Grease Traps Stop Drain Blockages
Did you know water companies in 2023 are more active than ever in tackling 'fatbergs' or public sewer blockages? In September 2023, Severn Trent Water announced they recruited 300 new staff to cope with drain blockages.
Every year, South West Water deals with 8500 blockages costing millions of pounds. Purchasing a passive or gravity-fed grease trap can help massively reduce FOGs entering your immediate drains and public sewers. Grease Traps only use water flow to separate FOGs. They are low-cost to buy and easy to maintain. Equally, they are also practically free to run, which is welcome news for many!
Do I need a Grease Trap?
You will require a grease trap or management system if you produce hot food commercially. Building regulations 2.21 Part H stipulate that 'Drainage serving kitchens in commercial hot food premises should be fitted with a grease separator.. or other effective means of grease removal'. Correctly sizing, installing and servicing a grease trap is therefore very important to be compliant. Also, to protect public sewers from blockages. The benefit of using a passive gravity grease trap is that no electricity is required. As such, they are often much cheaper to buy.
Different Types
Furthermore, an under sink commercial grease trap does not require expensive parts and servicing. It simply relies on the gravity flow of water. You'll find everything you need at Grease Trap Store for a commercial kitchen grease trap interceptor. Please choose from our range of indoor under sink stainless steel models starting from 20 litres. Try our epoxy-coated grease traps if you require a more rugged, weatherproof outdoor fat trap. They are also suitable for underground. Prices start from as little as £140 + VAT with free UK next-day delivery.
Are Grease Traps More Important Than Ever?
Grease is becoming a huge problem. More people eat out than ever before, so more fat must be disposed of. But how does FOG become a problem? Well, FOGs are approximately 10-15% less dense than water, and once cooled, FOGs will begin to thicken and harden. It is at this point that it becomes a significant concern. At the time when you are pouring grease into the drainage system, it may seem trivial. After all, it's likely to be hot liquid still. However, after a short cooling period, this liquid grease will solidify.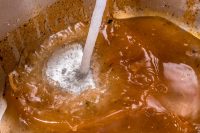 FOG's and Grease Traps
As FOGs solidify, they line drain pipework and cause blockages. Blocked drains can quickly become a nightmare for businesses and the public alike. Drains can overflow, potentially damaging property. In addition, there is a significant environmental concern of contamination of local bodies of water. The fines are hefty if a business is found guilty of abusing public sewer systems or water supply. It also attracts substantial negative PR. Also, Grease traps help trap this grease and ensure FOGs do not become a problem.
Grease Interceptors
Grease interceptors, also known as fat traps and passive grease traps, are relatively simple devices. They serve a huge purpose. A simple, well-sized fat trap can save you time and money in the long run. Buying from Grease Trap Store guarantees you'll receive excellent quality at an affordable price.
The grease trap will pay for itself multiple times over. Especially when compared to plumbing costs should a severe problem arise from a grease-related blockage or overflow. Shop for grease traps now for rapid next-day delivery!

Who should have a Grease Trap Installed?
If you are a food service establishment serving or preparing hot food at your premises, you require a grease trap or other grease management policy in place. Equally, Building regulations and obligations to your local water provider apply to large and small businesses alike.
We have compiled examples of businesses and authorities that would require a grease trap to be fitted if serving hot food:
Chip shops
Small, independent, low daily cover restaurants
Large chain, high daily cover restaurants
Hotels and guest houses
Public houses, bars and cafes
Fast food restaurants and takeaways
Hospitals and health care facilities
Care homes
Hot food processing companies
Bakeries
Any other hot food producing commercial kitchen
Buying a Grease Trap
Buying a grease trap for as little as £140 from a reputable company such as Grease Trap Store is a great investment.  Grease Traps are designed to last years. Like all of our stainless steel grease traps, they come with 5 year warranty. This will give you peace of mind coupled with security. Not to mention, you are actively capturing waste FOG's that would otherwise block your drains.
It is very important to know that if you are proven to actively flout local regulations or pollute waterways, you stand a real risk of prosecution.  Water companies throughout the United Kingdom are keener than ever to help businesses, most of whom are law-abiding, remain compliant and on the right side of the law.
Grease Trap News
According to recent news, during this year alone, Severn Trent Water has prevented over 500,000 litres of FOG from blocking public drains. Could you imagine receiving a call or getting a visit from your Local Authority advising your establishment has blocked the main drain supply? Or, because you didn't have grease management in place, you are liable for the damage and repairs? Ouch, this could cripple your business!
When a water inspector next visits your restaurant or food service establishment, you will want to have a clear grease management plan already in place.  Furthermore, when speaking with our customers, Grease Trap Store advises documenting all cleans and keeping them safe so this can be produced if asked.  We're passionate about protecting drains from fatbergs and your business from prosecution. Contact us today to see how we can help your business.
WHY CHOOSE GREASE TRAP STORE FOR YOUR GREASE TRAPS?
Grease Trap Store offer amazing value for money, rapid delivery of our products and unrivalled aftercare. Many of our grease traps are found at a fraction of the price compared to others. This means great savings for everyone who chooses to shop at our UK Grease Trap Store. Also, because we specialise in grease management of commercial kitchen equipment, we know what it takes to get it right!
We Stock Grease Traps & More
GTS are not a company that offers several hundred different products. Additionally, we stock grease traps and grease trap supplies! We recommend you always use a specialist, one that can answer all your questions. Likewise, someone to resolve any issues should they arise once the grease trap has been purchased.
Passive grease trap devices start trapping grease as soon as they are plumbed in and installed. All of our grease traps require no power supply, and they are environmentally friendly. And where possible, collect and recycle FOG's. All our products are constructed from high-quality stainless steel. Furthermore, they are designed to filter out FOG before it enters the drainage system.

EVERYTHING YOU NEED TO KNOW ABOUT GREASE TRAP STORE
When you want high quality products that you can rely on to perform seamlessly but without a high price, we have the solution. If you need a grease trap for restaurant or commercial kitchen activities, we offer:
Finest construction – Highest quality for demanding environments
Highest reliability – Performance standards exceeding expectation
Industry leading warranties – all of our fat traps come with at least 5 year warranty
Best savings – The same specification as market leaders at a fraction of the cost
UK Support – Based in North West England we're only a phone call away from support
Grease Trap Guidance & Tips
8 Grease Trap Steps To Consider
Check your grease trap on a regular basis. Once a week is generally good, but if you can check more, we'd advise you to do so. Remember, also, to always keep a record of your cleaning operations.
Empty your grease trap before it is full. The earlier the grease trap is emptied, the easier it is going to be to empty, not to mention clean it. Don't let excess grease build up until the point where it is being discharged into the sewer.
Depending on the size of the grease trap (and the size of your commercial kitchen), you may want to consider employing a trained contractor.
Clean all grease traps in accordance with the manufacturer's guidelines/recommendations.
Once all the grease has been removed from the grease trap, it should be stored in a suitable container and ready for collection. A licensed waste contractor will dispose of the grease in a safe and correct manner. You have a responsibility and legal duty to maintain a record of waste transfer notes.
Check your grease trap lid is secure along with any other components to protect against accidents.
Once the grease trap is set up and operating, you should monitor activity. If there is minimal grease in the trap over a period of time, check that it has been installed correctly. You may have other appliances, for example, a dishwasher too close to the grease trap. The flow of water/detergent may prevent the trap from operating effectively.
If you experience problems with your grease trap, you should always seek advice from the grease trap manufacturer, supplier or installer. We also supply a range of domestic fat traps starting from just £140, additionally with free next day delivery via our couriers.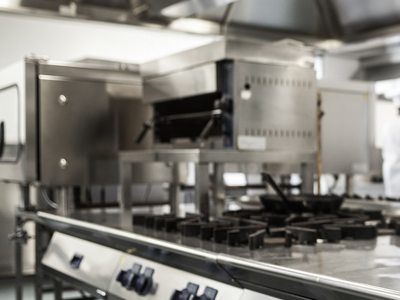 Looking for grease traps or a UK grease trap supplier then you're at the right place. Based in North West England we serve the whole of the UK via our next day couriers!
GREASE TRAP LEGAL COMPLIANCE
The Building Regulations 2010 pt H1 – (2002 edition) Drainage & Waste Disposal clearly set out rules for the management of grease:
Stating that – it is a requirement under the Water Industry to ensure that your commercial premises do not discharge any product into the drain, which may interfere with its operation.
As a business owner or someone responsible for a commercial kitchen, it doesn't need to be expensive to be actively compliant in your grease management.  Here at Grease Trap Store, we can help you keep on the right side of legislation and, also, with the support of your local water provider, can help size and supply a cost-effective grease trap based on your specific needs.
Requiring a grease trap installation? ACT NOW.
Your local authority could visit your premises at any time. Moreover, they could find that grease from your establishment has blocked the main sewer. This makes you liable, and fines run into the tens of thousands. Some examples are:
School, Gloucestershire – Fines and costs £7,616
Indian Restaurant, Stevenage – Fined £15,000
Pub chain, Oxfordshire – Fines and costs £90,000+
Chinese Restaurant, Cambridgeshire – Fines and costs £15,726

SECURE CHECKOUT
Here at The Grease Trap Store, we take your security very seriously that's why all payments are processed securely using PayPal and Opayo for your protection and peace of mind.