***FREE NEXT DAY DELIVERY***
Made from catering grade 304 stainless steel this domestic sized small Grease Trap is our entry-sized model measuring just 380mm x 275mm x 230mm.  Small grease traps are ideal for fitting in tight spaces and under sinks where you still want to help catch unwanted fats, oils and grease (FOG's) which otherwise block your drains.  
This GT5 20 litre stainless steel small grease trap is considered suitable for a single, domestic-sized sink bowl or low use establishments producing 1-49 meals per day.  
With no need for electricity, this 'passive' or 'gravity' grease trap is incredibly cost effective and works entirely using the flow of water. Incorporating a food debris basket underneath the inlet to catch small food particles, carefully positioned baffle panels then help to quickly cool wastewater aiding the separation process.  
Separated FOG's are retained in the central collection chamber and cleaner or 'grey' wastewater continues to flow through the outlet in to the drainage system.  It is recommended to drain off accumulated FOG's fortnightly. 
***FREE NEXT DAY DELIVERY***
Description
Small Grease Trap For Kitchen Sinks
If you're looking for a small grease trap for underneath your sink, then this entry-sized GT5 is perfectly sized to fit in the smallest of spaces.  Perhaps you require a grease trap for a tight cupboard space or shelf. This small grease trap measures just 380mm x 275mm and has a low height of 230mm.  
At Grease Trap Store we have a wide range of stainless steel grease traps in stock. Why not contact us to see what size suits your requirements?  Having worked in the food service industry for many years, we understand you want to be compliant without breaking the bank!  All of our commercial grease traps are designed to help you reduce fats, oils and grease accumulation. Furthermore, we believe you don't need to spend a fortune.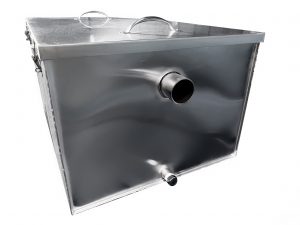 Under Sink Stainless Steel Small Grease Trap
All of our under sink grease traps are made from catering grade 304 stainless steel. This GT5 is our starter small grease trap and it is designed to be fitted easily under a sink.  
It can be very easy to think of fats, oils and grease build-up as unlikely to cause immediate drain problems. However, many food service establishments still are unaware it is mandatory to have a grease management system in place. Otherwise, they can face hefty fines.  
Installing a grease trap can help you remain on the right side of water regulations. If you're a business owner or member of staff responsible for your kitchen operations, consider reading more about compliance here. Furthermore, when purchasing a small grease trap, consider a safe, natural grease trap cleaner. 
Small Grease Trap Size & Specification
304 catering grade stainless steel 

Flow Rate (Litres Per Minute) 27

20 Litre Capacity 

Height to Inlet: 157mm

Height to Outlet: 122mm

50mm (2") Inlet/Outlet. 

5kg Grease Capacity 

Suitable for 1 standard sink bowl

5 Year Warranty

Minimise Drain Cleaning Call-Out Charges

Improved Wastewater Discharge Quality

Air Tight Seal – Eliminate Unwanted Odours

Corrosion Free Construction

Uses Standard Multi-fit Connectors

Model SKU: GT5

Size 380 x 275 x 230mm (w x l x h)

Inlet / Outlet Size (mm) 50

Grease Capacity (kg) 5

Capacity to Inlet Outlet (L) 20

Meals Per Day: 1-49
Grease Trap Store's passive or gravity small grease traps can be vital. They can control where cooking fats, oils and grease end up.  This, in turn, helps maintain hygiene standards by ensuring your drains are continue free-flowing.  
Our Grease Traps come in a range of sizes and are gravity-fed. Furthermore, this means they work effectively using entirely the flow of water!  Grease traps that don't require electric power are not only cheaper to purchase. However, it also means they are versatile and practically free to 'run'.  Having only to pipe 'downhill' using the benefit of gravity, this is considered the most reliable and cost-effective method in grease management.   
Commercial Grade
By choosing a commercial grade, passive grease trap you can easily capture waste fats, oils and grease (FOG's).  When connected to your sink or dishwasher, this helps channel waste water through the grease trap using a number of carefully positioned panels which helps cool and thereby separate FOG's from the water.  
Deciding on and choosing a correctly sized small grease trap enables your sink and drain system to flow easily and without backing up.  A well sized and well functioning small grease trap accommodates the flow of your sinks and simultaneously 'catches' the grease inside the central chamber, seamlessly.  If you have a double bowl commercial sink then consider a larger 80 litre grease trap such as the GT18 or our under sink 100ltr GT26
Cost Effective Grease Management
All of our small under sink grease traps are both designed and supported by our customer service in the United Kingdom.  
In order that you can frequently and easily empty your small grease trap, we have added a drain off valve at either end directly underneath the inlet and outlet.  This helps you quickly and fully drain off the accumulated wastewater and food sediment when beginning a full clean.  
Check out the New Valves
Additionally and new to 2023, our redesigned small grease trap now has a third, higher up side valve which along with the high quality brass tap valve, enables rapid drain off of captured FOG's. This can help extend the time between full deep cleans. 
If you're looking for a commercial sink for your small grease trap, why not check out our full range here.
Stocked in the North West of England, we dispatch next working day via our parcel couriers.  This small Grease Trap helps you comply with Building Regulations 2.21 Part H and is comes as standard with a five year manufacturer defect warranty.